Often while I'm at work I enjoy listening to music on iTunes, or sometimes I'll even listen to one of my favorite podcasts or vlogs (for my very favorite click here). I also enjoy listening to television shows while I'm plugging away at my work. One show I've recently been hooked-on is The View. Each episode is typically uploaded to their site the same day of airing--typically in the late-afternoon--and you can watch it online (sans commercials).

Believe it or not my "liking" for the show has nothing to do with the recent controversy surrounding the show, Rosie O'Donnell's leaving, or the "spat" she had with Elisabeth. Actually, I believe I was listening to "the episode" the day it occurred. But that really has nothing to do with this post.

It was while streaming a recent episode I was...well, maybe inspired...by Elisabeth Hasselbeck to take action on a particular topic. On the show she mentioned you can have amber alerts sent to your mobile device free of charge. I was immediately intrigued, not only because of the nature of the topic but also because of the integration of technology into the situation. Basically, here's what happens:

If a child happens to go missing in your local area, you can sign-up to receive an alert to your mobile device, notifying you of details. It's all customizable at WirelessAmerAlerts.org. You can select up to five (5) zip codes for which you'd like to receive alerts, should a child ever go missing there.

While I'm certainly one of the last persons you would associate with wanting to help children (heh, heh) I definitely would, if something like this were at my disposal. So I went to the site and signed-up today, and here's the text message I received post-sign-up: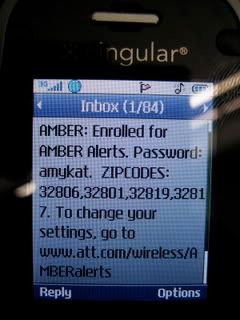 Now, never mind that my
password
is displayed. I'm pretty sure you can't do anything to my account without
all
of my information. While I'm certainly not anxious for a child to go missing, I will be interested to see what one of the mobile alerts looks like...and what sort of information it contains. When I do I will make sure and provide an update here.
If you have the chance you should
sign-up for mobile amber alerts
. It's free...and after all it promotes giving back to the community!